This intensive group program accelerates learning and adoption of essential skills and behaviours which increase focus, productivity, ability to handle stress, engagement, collaboration, resiliency, and adaptability. 
Focus and productivity strategies, along with communication, problem solving, and collaboration skills, have been shown to be ultimately more important in determining success among similarly trained colleagues than academic knowledge or technical skills. Without these crucial skills, we are unable to fully leverage our education and our organization's resources, resulting in reduced productivity, increased costs, reduced innovation, poor execution, and increased conflict and stress-related issues.

The Program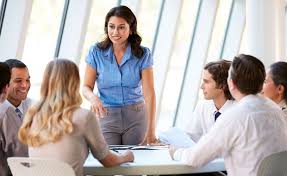 Participants attend one full-day group session every month for seven months, and work individually between sessions. The sessions focus on sustainable productivity, effective communication and conflict management skills, collaboration, innovative problem solving, increased workplace engagement and developing resiliency. The program is designed to incorporate immediate use of the skills in the workplace, with reflective follow-up activities, an individual challenge which incorporates new learning, and action plans identifying steps to achieving goals and reinforcing effective new strategies.
Our Process
Research in education and brain-based learning theory indicates that experiential education is the most effective method for accelerating behavioural change and skill development. When we learn through experience, inquiry, critical thinking and interaction, our insight is more likely to lead to perspective shifts that change the way we interact in the workplace. Participants in winding path inc. programs are given challenges requiring them to find more effective ways of doing things, to identify barriers to success, and create goal-oriented action plans.
Program Outcomes
increased resiliency and persistence in the face of change and uncertainty
improved collaboration and problem solving skills
improved attitude and motivation to become part of solution-finding
increased engagement, self-motivation, and sense of personal responsibility
improved communication skills
improved ability to manage distractions and procrastination
improved ability to manage stress
improved ability to lead and manage others
For more information about outcomes: Program Learning Objectives
**UPCOMING PROGRAMS**
Our next available program will run from November 2019 to May 2020, and we are accepting registrations now. The dates of the full-day (8:45am – 4:00pm) sessions are:
Tuesday, November 19, 8:45-4:00
Tuesday, December 10, 8:45-4:00 (storm date December 11)
Tuesday, January 14, 8:45-4:00 (storm date January 21)
Tuesday, February 11, 8:45-4:00 (storm date February 18)
Tuesday, March 10, 8:45-4:00 (storm date March 11 or 17 TBD based on school calendar)
Tuesday, April 7, 8:45-4:00 (storm date April 14)
Tuesday, May 12, 8:45 – 4:00
Participation in all sessions of the program is required for maximum program benefit.
Program Cost
Registration Fees for this 6-month program are $1695 plus hst and include light morning and afternoon snacks and all materials. Limited enrollment.
Funding Support
If you are an owner or manager of a private-sector business, you may be eligible for up to $500 of cost-sharing funding to offset the program cost. You can find more information HERE.
Employers recognize the work-related value of  INTENTIONAL FOCUS and often financially support their employees to attend. You may find it useful to include this Program Brochure in your funding request to your employer.