Identifying Your Personal Happiness Formula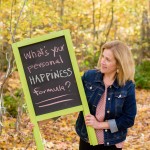 In this workshop, we use the science of happiness to help you examine and plan for a more joyful life. The past decade has seen an explosion of research into happiness. What makes us happy, why does it matter and what does happiness actually mean? In an analysis of 225 academic studies researching the effect of happiness on success, social scientists found that happy people are, indeed, more successful in many areas.
Evidence showed that happy people:
make more money
are more creative at work
are better leaders and negotiators
are more likely to have long lasting, fulfilling relationships
have more social supports
are more philanthropic, generous and kind to others
are better at coping with stress
are healthier, have stronger immune systems, and live longer
The study also showed that "happy workers enjoy multiple advantages over their less happy peers. Individuals high in subjective well-being are more likely to secure job interviews, to be evaluated more positively by supervisors once they obtain a job, to show superior performance and productivity and to handle managerial jobs better. They are also less likely to show counter-productive workplace behaviour and job burnout."
In this participatory workshop, we will explore the science of happiness, and what the evidence tells us about how to increase it in our lives. We will break down the most common traits and practices of happy people and facilitate opportunities to experiment with ways to increase those traits and practices in yourself and in your life.
Our Process
Your learning will be supported by facilitated group and individual activities, with a focus on fun, reflection and action.