Are you living your best life?
LIVING YOUR POTENTIAL in work and in life: a winding path inc. program for Women
"This was definitely the best program that I've ever attended, and I have attended many. It was life-changing for me, so saying that it was a good investment of time and money, would be putting it mildly."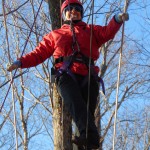 winding path inc. is offering a powerful learning experience in Charlottetown from Oct. 8 to Nov. 30, 2015, during which participants will gain insights to break through barriers to make the mind‑set changes necessary to reach their personal and professional potential. This confidential transformational learning program is designed to help participants move past self‑limiting thoughts and patterns of behaviour that inhibit their potential to become the person they have always wanted to be in work, relationships, and life.
"The program leaders created a safe and supportive environment that allowed me to dig deep below the layers of fear and doubt where I discovered a source of great inner strength and courage that had been lying dormant for many years," says Patricia Doiron of Veterans Affairs Canada. "I no longer feel the need to seek external validation. I am more confident. I'm excited about the future and am more committed than ever to taking personal responsibility to live out my life purpose and not settle for anything less."
Participants in this program have the unique opportunity to challenge themselves and explore their personal limits at a private outdoor ropes course in Charlottetown, where the activities include group challenges, personal reflection exercises and a harnessed high climb of 24 feet to walk across a wire suspended between trees.
"The peak experience of the high climb is transformational," says Karolyn Godfrey, facilitator and partner, with Kirstin Lund, in winding path inc. "We have literally seen change occur in people's faces while they are climbing. It's a very powerful thing to witness."
That change is supported by facilitated reflection and planning, and participants leave with a personal action plan that assists them in making the changes they identify as necessary for optimizing their success at work and in life.
"As a result of the program I am different," says Susan Zambonin, Executive Officer at Canadian Home Builders' Association (PEI) Inc. and former Executive Director of Habitat for Humanity PEI. "I feel really empowered. I feel like smiling all of the time. I am facing new challenges, not avoiding them. I haven't felt like this in a long time, if I ever did."
More information about the program can be found at http://windingpathinc.com/living-your-potential/